THE FRANCE PHILIPPIINES – UNITED ACTION. (From left): Daanbantayan Mayor Augusto Corro, French Red Cross Country Representative Lea Gauthier, Ambassador of France to the Philippines Gilles Garachon, French Chamber of Commerce President Cyril Locke, Lafarge Holdings Philippines Inc. President and CEO and FP-UA chair Don Lee, and Habitat for Humanity CEO Charlie Ayco. Photo from France Philippines – United Action
The consortium of French companies operating in the Philippines eyes completion of its two reconstruction projects in Northern Cebu by 2015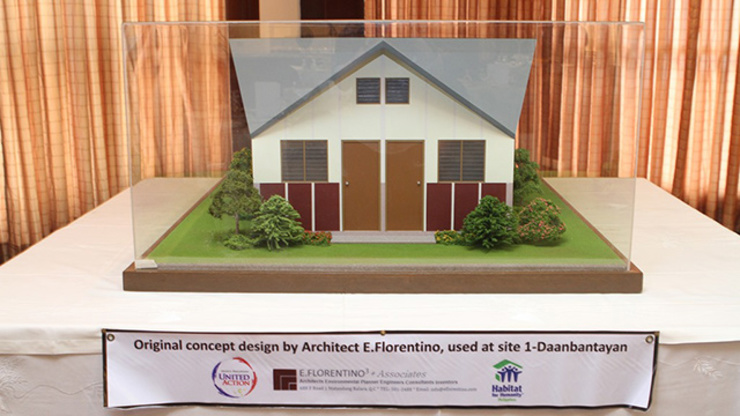 DISASTER-RESILIENT HOUSE. The Habitat for Humanity hyperbolic paraboloid house design, developed by architect Ed Florentino, being built in Barangay Agujo, Daanbantayan, Cebu. Photo from the France Philippines – United Action
MANILA, Philippines – Like many other efforts in the beginning, they all poured in help, in cash and in kind. They were all significant but uncoordinated, not sure where to channel their aid.
What was clear, though, was that they wanted to ease the damage brought about by supertyphoon Yolanda (Haiyan), considered the most destructive typhoon recorded in modern history.
On November 15, 2013, 7 days after Yolanda hit caused death and destruction in the Visayas, French Ambassador to the Philippines Gilles Garachon summoned representatives of leading French companies, plus those from the Conseillers du Commerce Exterieur and the French Chamber of Commerce in the Philippines, to discuss relief activities led by the French community. Thus, the France-Philippines United Action (FP-UA) was created.
A year after Yolanda, FP-UA has reaffirmed its commitment to the rebuilding efforts for Yolanda survivors, as aligned with President Benigno Aquino III's approval of the P167.9-billion ($3.74 billion**) reconstruction plan for the Visayas.
Their coordinated effort: to complete its two reconstruction projects in Northern Cebu by early-2015.
Building resilient houses
FP-UA raised $613,700 from different French companies used for the two reconstruction projects.
To realize their efforts, FP-UA partnered with non-profit organizations immersed in disaster relief and rehabilitation efforts.
BATTERED DAANBANTAYAN. The damage left by supertyphoon Yolanda is evident in Daanbantayan, Cebu. Image from the France Philippines – United Action press kit
Together, they are building 74 disaster-resilient houses on 5888 square meter (sqm) site in Barangay Agujo, Daanbantayan, Northern Cebu, to be called the "French Village." The site was donated by the Cebu local government.
Designed by architect Ed Florentino, each house can withstand up to intensity 8 earthquakes and 275-300 kilometer per hour (kph) winds. Lafarge, a sustainable construction solutions company, provided the materials for the houses.
A total of 74 homes will be erected, including a community center. To date, 56 houses have been completed.
In May, a model house was unveiled. Houses in this site are expected to be completed in December this year.
The FP-UA-Habitat for Humanity rebuilding lives project in Barangay Agujo is worth $ 500,000 and was initiated by Lafarge. They partnered with the local government and members of the French business community, namely Archetype Group, Commanderie de Bordeaux, Manille Bienvenue, Megacem, and Schneider Electric.
Meanwhile, another 148 houses are being built in Barangay Paypay, also in Bantayan under an integrated recovery intervention.
Yolanda left Paypay with 95% houses totally damaged and the remaining 5%, partially damaged.

DISASTER-RESILIENT HOUSE. The Habitat for Humanity hyperbolic paraboloid house design, developed by architect Ed Florentino, being built in Barangay Agujo, Daanbantayan, Cebu. Photo from the France Philippines – United Action
The permanent houses to be built for Yolanda survivors in Paypay will be located in a 1.3-hectare relocation site following a private donation to the Daanbantayan municipality. It will also have access to potable water, sanitation, and power supply. Beneficiary families will also be covered by a comprehensive livelihood program.
For this initiative, FP-UA partners with the French and Philippine Red Cross, and again, Habitat for Humanity, with members and contributors Total, Sanofi, and Ia Caisse des Dépôts.
The $1-million construction project in Paypay is ongoing and is set to be completed by June 2015.
Building disaster-resilient future
Constructing the houses is only the first of many steps toward building a disaster-resilient future for residents of Yolanda-hit Barangay Agujo and Paypay in Daanbantayan, the beneficiaries of FP-UA.
"We're one with these communities as they stand back on their feet and rebuild stronger foundations for the future," says Lafarge Philippines president and country CEO Don Lee, who also serves as FP-UA chair.
To date, the FP-UA and the French Red Cross are now conducting a community needs assessment of the Barangauy Agujo site. They will soon create an integrated community development program focusing on the livelihood of the affected residents.
Apart from these efforts, the FP-UA consortium members are also tasked to encourage optimal allocation of goods, define key evaluation areas, provide various opportunities for involvements, and communicate all their accomplished efforts to the public.
Other FP-UA members and contributors include the French Development Agency, Philippine-France Business Council, Ubifrance, AGS Four Winds, Asiatype Incorporated, L'Oreal, and Pacific Hemisphere Dev. – Rappler.com
For Rappler's full coverage of the 1st anniversary of Super Typhoon Yolanda (Haiyan), go to this page.
*Figures from the France Philippines – United Action
**($1 = P44.90)
Source: Rappler